Do you like fizzy, bubbly drinks? Do you look for drinks that are refreshing and also flavorful? If you said yes, then you are probably a fan of Sparkling ICE drinks. ICE drinks are fairly new to the market but they have taken over in popularity. You can find them everywhere! And we know why- they are just really GOOD.
We wanted to really explore ICE drinks and see what all the hype is about. Are they really that great? Let's find out! Grab your favorite ICE drink flavors, open up that bottle and keep reading!
What are ICE Drinks?
ICE drinks are essentially sparkling water that has added sweeteners and flavors. They also have vitamins and antioxidants added to the bottle to make them a little bit healthy. ICE drinks can be found in the refrigerated drink section of most grocery stores. They are sold in many gas stations, convenience stores and you can even order cases online to be delivered to your house. Wherever you find your favorite ICE drink flavors, be sure to stock up! They will not get wasted.
Do ICE Drinks Have Sugar?
ICE drinks are completely sugar free. They have no carbs and zero sugar. However, ICE drinks are sweet. They are sweetened with sucralose which you may know as Splenda. It gives the drink a sweet taste but your body will not absorb the calories or carbs. They pass right through you! Which means all Sparkling ICE drinks are carb free!
Is the Drink ICE Good for Weight Loss?
ICE is not a true weight loss drink. It isn't supposed to be part of your weight loss routine. However, drinking ICE will keep you hydrated and satiated which is important to weight loss. Drinking a bottle of ICE drink will help you feel full and make you less likely to binge on unhealthy foods.
So, while ICE is not designed for weight loss, drinking one or two ICE a day will not make you gain weight but will keep you refreshed and feeling full.
Is ICE Drink Healthy?
Many people have questioned if Sparkling ICE is actually healthy. Yes, it contains zero calories and zero carbs but what exactly is in that bottle? Is it safe to drink everyday? Let's take a look and see!
ICE drinks are made with artificial sweeteners like sucralose and mannitol. Studies have shown that too many of these chemicals can be harmful. However, when consumed in moderation, they are completely fine.
ICE drinks are made with chlorine, an ingredient that is not harmful in small quantities but is not intended for daily consumption. Your kidneys should be able to filter out most of the chlorine. However, too much can have severe consequences and has even been linked to causing cancer.
Many people see carbonation as being problematic. Too much carbonation can cause bowel irritation, heartburn and lead to stomach ulcers. But, once again, a little carbonation is considered safe.
ICE drinks do have added vitamins which are beneficial. Each ICE drink has niacin, vitamin B6, Biotin, Vitamin D, and Vitamin B12. However, you can get these vitamins in other, healthier ways.
All in all ICE drinks are not very healthy. A liquid ICE energy drink can be equated to drinking a soda. It has many of the same chemicals and side effects of excess soda. So, while an ICE drink is okay as an occasional treat, drinking multiple ICE drinks per day may have some serious side effects.
Can Diabetics Drink Sparkling ICE?
One of the biggest selling points of sparkling ICE energy drink is that it is sugar free and carb free. This makes it a great option for diabetics and those who need to avoid sugars and carbs. ICE is made with sucralose which is a sweetener that does not raise blood sugar levels. This makes it a safe choice for diabetics who want a sweet tasting drink but can't risk raising blood sugar levels.
ICE Drink Flavors
If you do decide to have an ICE drink treat, there are so many flavors to choose from. That is one of the exciting things about drinking ICE, there are so many ICE drink flavors that you will never get bored! Here are a few of the current flavor options for the sparkling ICE classics.
Grape Raspberry
Black Cherry
Black Raspberry
Pomegranate Blueberry
Berry Lemonade
Fruit Punch
Strawberry Watermelon
Strawberry Lemonade
Kiwi Strawberry
Pink Grapefruit
Peach Nectarine
Orange Mango
Coconut Pineapple
Classic Lemonade
Ginger Lime
Coconut Limeade
Lemon Lime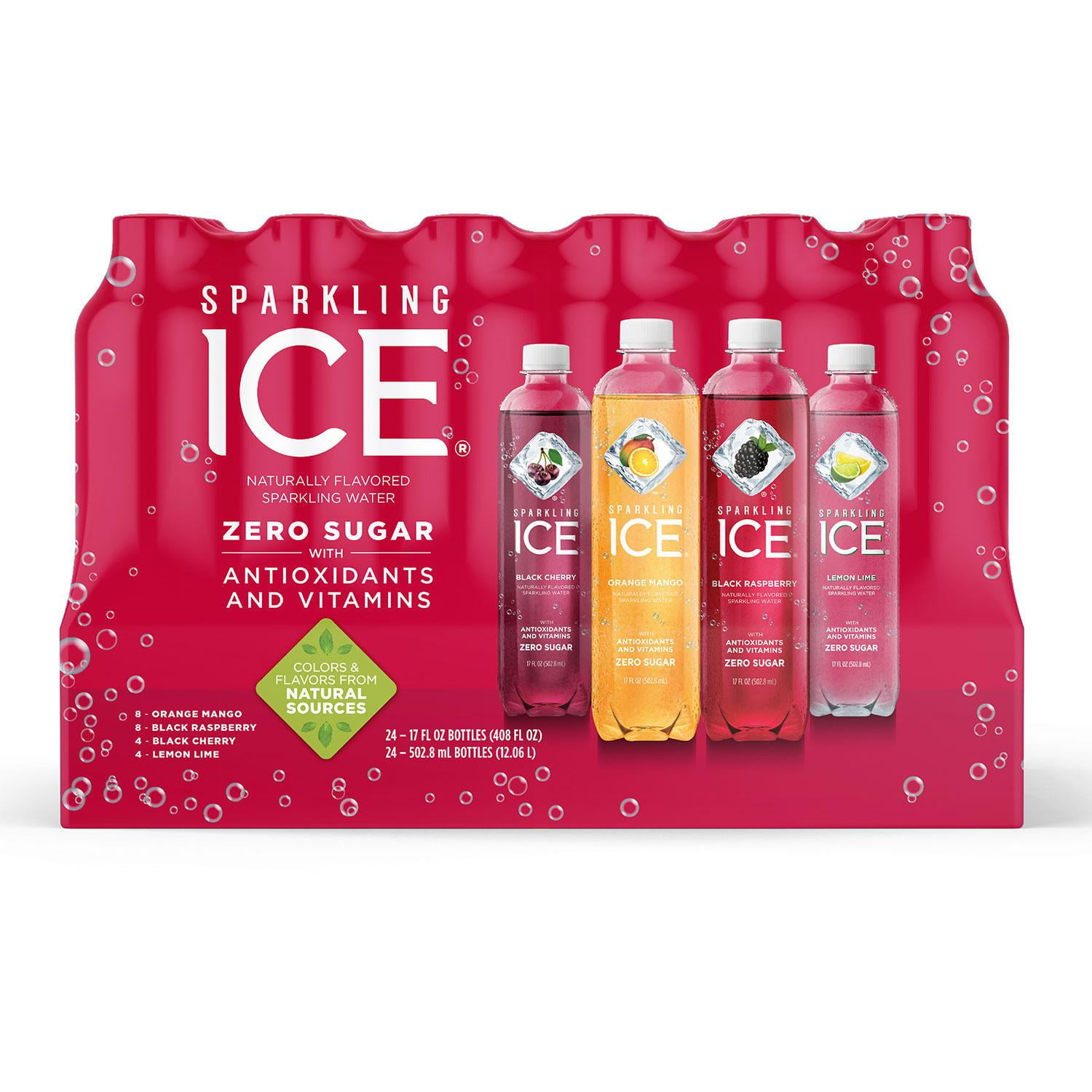 In addition to the classic flavors of sparkling ICE, there is also an Ice energy drink. These sparkling waters are boosted with caffeine but still have zero calories or carbs. One can has 70mg of caffeine which is about ⅓ of the amount of caffeine in an average cup of coffee.
The ICE energy drink comes in six flavors. Cherry vanilla, black raspberry, citrus twist, orange passion fruit, blue raspberry and strawberry citrus are the ICE flavors currently available with caffeine.
Where to Buy Sparkling ICE Drinks
Sparkling ICE drinks have become very popular in the last few years. You can really find them just about anywhere! From your local grocery store to the gas station, ICE drinks are everywhere. You can also order cases of ICE to be delivered to your home. Order a variety pack so you can try all the flavors. You can also grab the harder to find liquid ice energy drinks. One thing is for sure, ICE drinks sure are convenient!
We know that you will see sparkling ICE drinks everywhere. They are so popular that it looks like this is one trend that is here to stay! So give an ICE drink a try and see what you think. Be sure to tell us your favorite ICE drink flavor so we can try it too! Just remember to drink them as a treat and not in place of everyday water. They may be refreshing and tasty but they aren't a true health drink. Enjoy!