Are you giving dry January a try this year? We sure are! We also participate in dry february, dry march, dry april… But dry January is a great place to start! It is also one of the best times to try out a few new mocktail recipes. We have plenty of dry January mocktails that you are going to love. Luckily, you have thirty days to try them all!
What is Dry January?
Dry January is an annual tradition for many people. It actually began as a public health campaign in 2012 which urged people to abstain from alcohol for all of January. The challenge was started by the British charity Alcohol Change UK. They asked people to stop drinking alcohol for all of January to help improve their health, lose weight and save money.
Lots of people took the challenge and it became a popular trend around the world. It is estimated that up to 6.5 million people take part in Dry January. That is a lot of mocktails to make! This sounds like a trend you should definitely be a part of.
What Can You Drink in Dry January?
If you decide to take the dry January challenge, you will need to know exactly what kinds of drinks you can have. You can really drink anything that is alcohol free. This means coffee, juices, teas, water and sodas are all okay. Mocktails are also on the dry January approved list.
Skip all drinks that have alcohol. That means no wine, beer, shots or cocktails. Don't worry though, we have plenty of delicious drinks to help you enjoy every second of dry January!
Dry January Benefits
There are many benefits to dry January. There are health benefits and also monetary benefits to participating in dry January. Here's a quick look at a few of the reasons why you should try dry January.
Skipping alcohol can help reduce your risk for breast cancer, heart disease, stroke and liver problems.
Your sleep patterns will improve and you will sleep better without drinking alcohol.
You will have more energy.
Alcohol suppresses your immune system so skipping the alcohol will help improve your bodies ability to fight infection.
Cutting back on alcohol can help you lose weight. Alcoholic drinks have high calorie counts so eliminating them from your diet will reduce your caloric intake immediately.
You will save money since you are not buying alcohol.
Anyone who gives dry January a try will feel the benefits, no matter who you are or how much alcohol you typically drink. It is incredible how amazing your body will feel after even just a few days without alcohol. After a whole month, you will feel like a whole new person.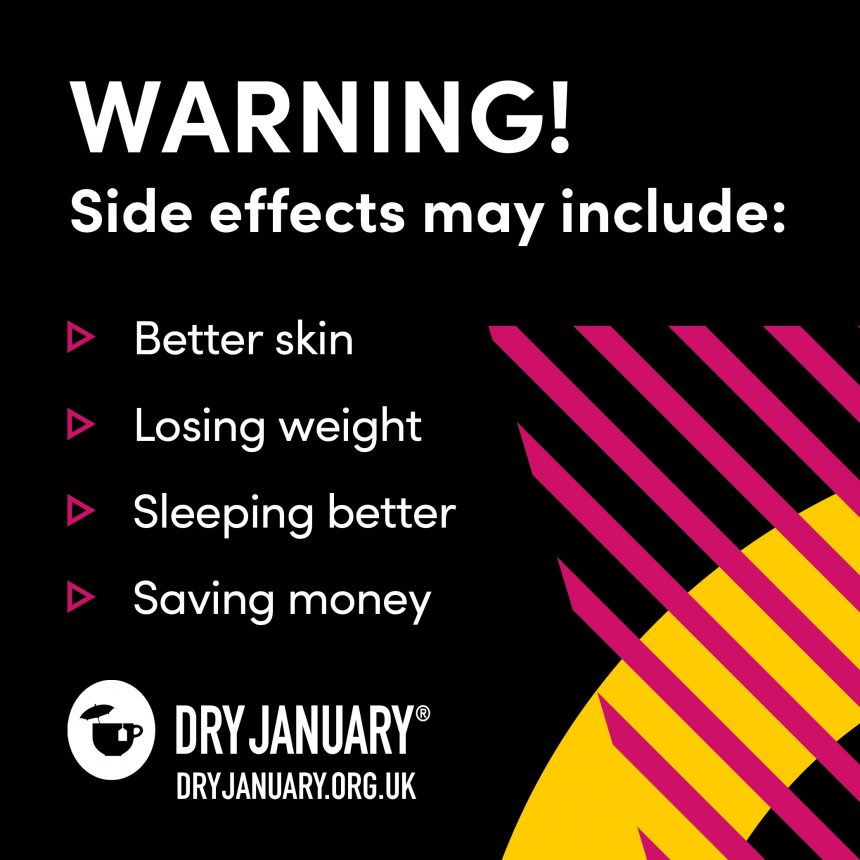 Dry January Mocktails
We love drinking mocktails for dry January. Mocktails are a great way to have a delicious drink without the alcohol. You can stick to your January goals without missing out on tasty drinks.
We chose to include mostly winter mocktails on our list. Since it can be cold in January, you will want a mocktail that warms you up! Richer, heartier drinks are perfect for the winter months, too. Take a look at our favorite dry January mocktails and give them all a try! Each one is unique and yummy.
The hot toddy is a classic, warm drink that is said to heal and prevent the common cold. Hot toddy's are typically made with whiskey but we skip that completely! Our non alcoholic hot toddy is made with tea, honey, lemon juice, cinnamon, cloves, and nutmeg. The warm liquid and perfect blend of spices will soothe your soul. This is the perfect hot mocktail to enjoy on a cool dry January night.
If you want a sweet, warm drink that isn't hot cocoa or tea, you should really try our warm vanilla malt. Whole milk, vanilla bean, malted milk powder, brown sugar, honey and cinnamon are blended together in a small pot. The mix is simmered to perfection and then served warm.
The mild nutty flavor of the malt powder makes the hot mocktail taste unique and exciting. The rich brown sugar and honey are perfect winter flavors. Everyone in your house will enjoy this delicious cold weather drink!
If you are familiar with the wizarding world of Harry Potter, then you know all about butterbeer. Butterbeer is a mocktail made famous by the Harry Potter book series. It is not really a beer at all but a sweet, fizzy drink.
Butter beer is made with cream soda, caramel extract, butter extract, whipped cream and a butterscotch drizzle. It may be a cold drink but it is super filling. A perfect dessert and mocktail to enjoy during dry January! Of course, any Harry Potter mocktails are always welcomed.
Winter is a time for baking pies, snuggling under big blankets and trying tasty mocktail recipes. Our pumpkin pie martini is the perfect drink to combine the winter need for pie and also the desire for a yummy mocktail. Of course you can also enjoy it while under a cozy blanket.
Our pumpkin pie martini tastes like a pie in a glass. It is made with real pumpkin puree, half and half and pumpkin pie spices. The graham cracker crumb rim is the perfect finishing touch. This fancy drink is exactly what you need when you want something yummy for dry January. It can be considered a dessert or a drink!
If you are doing dry January and also trying to eat and drink healthier, a strawberry kombucha mojito mocktail is exactly what you need. Kombucha is a very healthy fermented tea that is loaded with probiotics that will help improve your gut health. Fresh strawberries and mint are also packed with vitamins and minerals.
Our kombucha mojito mocktail is healthy and delicious. It tastes just like a true mojito but without the rum. Start the year off right by skipping the rum and enjoying healthy kombucha instead!
Do you need a tropical escape from the cold winter months of dry January? Then maybe you need a refreshing, vibrant and delicious pina colada. One sip and you'll be transported to a tropical island vacation.
Our virgin pina colada is made with pineapple juice, cream of coconut, vanilla extract and ice. It is thick and creamy, sweet and irresistible. You don't need alcohol to make a perfect pina colada and this virgin pina colada recipe proves that!
---
Give the dry January challenge a try and see if you can go at least a month without alcohol. You will be amazed how great you feel once you eliminate alcohol from your routine. You may even want to get rid of alcohol for good! We help make that easy by giving you delicious mocktails and non alcoholic drinks to enjoy all year long.
Let us know which dry January mocktails are your favorite! Enjoy.